Holidays have been going beautifully. We have had a STACK of earthquake aftershocks (six over 4.0 in a one hour period from about 5am on Jan 2nd!) but nothing (TOUCH WOOD) too damaging after the first biggish one on 23 December. A bit frightening in some cases, but again, nothing that we aren't that used to! I spent time with family, and we had some sterling weather over Christmas. It feels good to put last year behind us!
This is me swimming in the Ashley river. I like it because it looks like I have no legs. This is two days after Christmas! There are some benefits to summer!Christmas...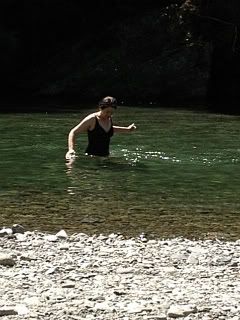 I have no New Years resolutions at this time. I think the biggest thing I learned last year was that the best laid plans of mice and men can go remarkably astray in the blink of an eye (I think there's some more mixed metaphors I can fit into there, let me see...). So I'm just going to try and be good and be accepting of the things that the universe gently tosses my way. Or throws, hard, on occasion!
I hope this year will be a happy and satisfying one for us all. Lots of love to you ALL.
<3 <3 <3 <3 <3 <3
Greta
Latest Month
May 2012
S
M
T
W
T
F
S
1
2
3
4
5
6
7
8
9
10
11
12
13
14
15
16
17
18
19
20
21
22
23
24
25
26
27
28
29
30
31